In the period of the automated industry, how can we ignore the existence of the conveyor? For more sophisticated products, traditional processing and production methods usually involve one person operating multiple machine tools at the same time for production. This mode is not only slow in production efficiency, but also easy to cause work safety accidents due to human negligence. Coupled with the prevalence of industrial automation, most factorys have begun to use robotic arms and conveyors to match the machine tool for production. Automated operation mode can not only reduce manpower, but also because of automation factors, mechanical equipment can produce and process for a long time, and also greatly increase production capacity.
Recently, this project helped the customer plan the upper and lower aluminum extrusion multi-belt conveyors, and matched the robot arm for loading and unloading workpiece. After the workpiece is sent to the positioning point through the conveyor, the arm will clamp the workpiece and put it into the upper machine tool for processing. The processed workpiece is placed on the lower conveyor and returned to the end, and then the arm is clamped back to the storage basket. Different ideas and different combinations make conveyor belts the most indispensable mechanical equipment for production line upgrades.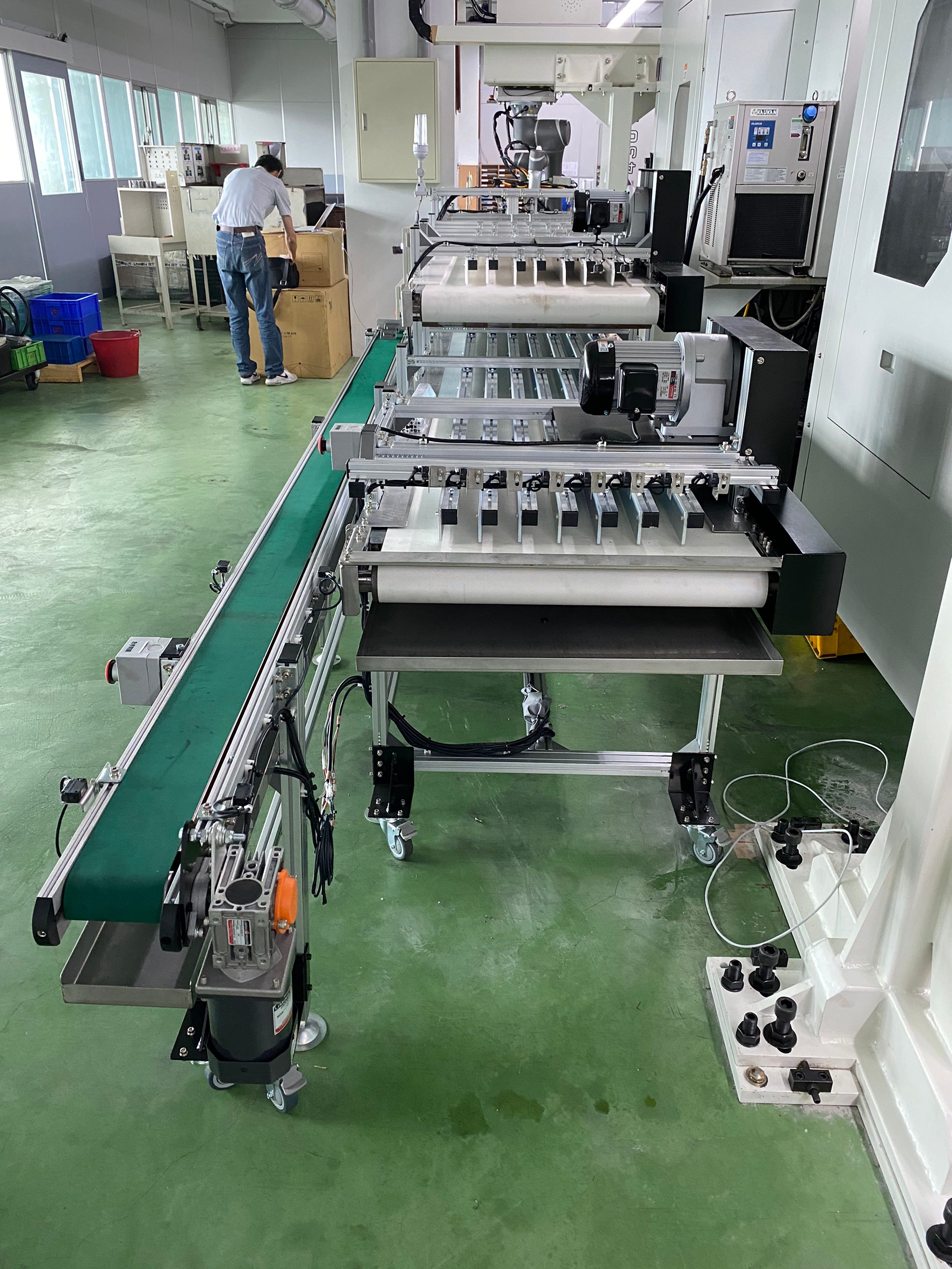 Yuan Yuan Yu's automatic conveyor machine systems have been using in wide ranges of different industrials and conditions. From traditional industry to electronic industry all need to use it and also conveyor, conveyor belt, conveyor belt equipment, belt conveyor, roller conveyor, assembly line belt conveyor, agricultural conveyor equipment, automation equipment, chain plastic plate belt conveyor, plastic injection conveyor equipment, ultra-thin type belt conveyor, aluminum extrusion belt conveyor, lifting conveyor, screw conveyor, stainless steel conveyor, crawler conveyor, safety fence, bar storage racks, belt baffle hopper type conveyor, die-casting aluminum industry conveyor equipment, mold racks, lifting conveyors, submerged belt conveyor, clean room conveyors, iron filings conveyor equipment, punching conveyor equipment, conveyor, packaging machine conveyor belt equipment, labeling machine conveyor equipment, combined storage racks, metal detector conveyor equipment, tabletop conveyors belts, printing machine conveyor equipment, automation machinery, hollow forming machine conveyor equipment, automated conveyor equipment, woodworking machinery conveyor belts, laundry factory conveyor equipment, drawer mold racks and material racks, mobile pipe storage heavy duty cantilever racking, food equipment conveyor, aluminum extrusion work tables, Taichung conveyor belt equipment, Taichung automation equipment, Taichung conveyor equipment, Taiwan conveyor equipment. Let the products of Yuan Yu become a critical element on your production line!